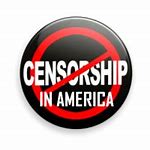 "Freedom to Believe or Not to Believe"
A call out to social media platforms, please kindly stop censoring Christian content. The United States has the largest population of professed Christians in the world and I ask that you stop censoring Christians. I pray you re-think banning and censorship and if it continues that new outlets surface that adhere to the US Constitution. I pray that God blesses such outlets and leads traffic to platforms that possess integrity and lack any Christian censorship complaints that are not deemed sound, do not show good cause, and are a direct violation of the First Amendment Right for everyone to contribute and share their own beliefs.
If society deems biblical concepts and things God opposes as a form of "hate speech," they have an excuse to completely dismiss the Holy Bible and block all of it's content. In prophesy, the push for a "New World Order" and the coming of the Anti-Christ would surely enjoy calling things that God opposes biblically as "hate speech" in an attempt to hinder, block and ultimately censor Christian speech while the world turns their backs to the word of God completely.
This nation shouldn't ban the Holy Bible in some effort to enforce Americans to become molded into one belief system in which everyone must conform to and collectively be in agreement. The United States should strive to keep the Constitutional protections that provide freedoms for Americans to take their own stance regarding a belief in God; (to believe or not to believe) the right to exercise free speech regarding their own independent beliefs, enforced liberty, justice and an equal right to pursue the American Dream.
The United States should strive to create a nation of "mature adults" who are capable of being able to comfortably "agree to disagree" without robbing Americans of their rights of free speech. In my opinion, I believe individuals who lack confidence in their own beliefs, become offended, threatened and challenged by the beliefs of others. In retrospect, individuals who are secure and confident in their own beliefs, typically aren't threatened or offended by those who believe and think differently. A lack of confidence in personal beliefs causes people to desperately yearn for others to come into agreement and acceptance of what they believe. Such persons seek social approval, feel offended, rejected and can interpret any challenge to their beliefs as some personal threat. I think this is when the push for Christian censorship comes in and I pose a question. Is Christian censorship an actual push against hate, or truly resistance to God's word and an effort to silence the Holy Bible because it makes some people uncomfortable?
If an atheist, why is God's word making you uncomfortable? If you don't believe in God (and you completely have that right), why waste energy trying to disprove something you're convinced doesn't exist? Is the motivation behind that effort and underlying fear that he does and you're seeking that everyone comes into agreement with you to relieve any uncertainty? Also, if people are uncomfortable with the beliefs of others, should that warrant censorship?
Sadly, every time an American permits censorship and responds with silence, it's as if you're waving goodbye to the constitution and are often unknowingly; voluntarily, handing over our freedoms, thus destroying the American Dream.
Social control is not the land of the free. Please stop declaring things God opposes as hate speech in an attempt to control what people believe. Laws that protect people from harassment are useful; however, stopping people from discussing biblical concepts, things God opposes, warning Christians of deception etc., is not hate speech; it's exercising the right to believe the word of God and follow the Holy Bible's teachings. Jesus teaches us to love our neighbors as ourselves, as Christians we can do that and still not lose sight of our own beliefs.
Acts 13:47 King James Version (KJV)
For so hath the Lord commanded us, saying, I have set thee to be a light of the Gentiles, that thou shouldest be for salvation unto the ends of the earth.
Acts 20:28 King James Version (KJV) Take heed therefore unto yourselves, and to all the flock, over the which the Holy Ghost hath made you overseers, to feed the church of God, which he hath purchased with his own blood.
Ephesians 5:11 King James Version (KJV) And have no fellowship with the unfruitful works of darkness, but rather reprove them.
Mark 16:15 King James Version (KJV)
And he said unto them, Go ye into all the world, and preach the gospel to every creature."
Matthew 5:14-15 King James Version (KJV)
14 Ye are the light of the world. A city that is set on an hill cannot be hid.
15 Neither do men light a candle, and put it under a bushel, but on a candlestick; and it giveth light unto all that are in the house.
2 Timothy 4:2 King James Version (KJV)
Preach the word; be instant in season, out of season; reprove, rebuke, exhort with all longsuffering and doctrine.