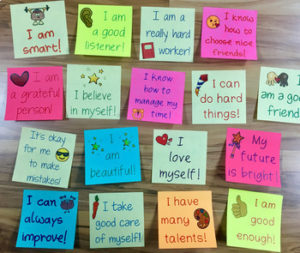 Project STALL: Positive Affirmation Nation
I think the public and private educational system, businesses, corporations, governmental agencies and public offices should create a post-it poster like the picture above and hang in all restroom stalls for an enforced positive affirmation sessions.
We see advertisements and this concept utilized to sell humans products, but I think America needs to become a Positive Affirmation Nation. I'd be curious in a project to implement this idea and survey students or employees two months later to see if it has any effect?
I AM L. Â OVED
I AM HEALTHY
I AM IRREPLACEABLE
I AM INTELLIGENT
I AM WORTHY OF THE BEST THAT LIFE CAN OFFER
I AM MOTIVATED
I AM DETERMINED
I AM A GOOD LEARNER
I AM A HUMAN WITH A PURPOSE
I AM CAPABLE
I AM RESOURCEFUL
I AM A SOLUTION SEEKER AND A PROBLEM SOLVER
1111Zion1111.com